Warrants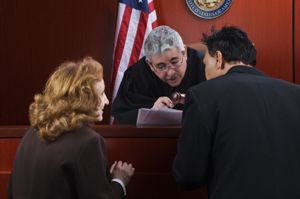 There are two primary types of warrants: bench warrants and arrest warrants. A bench warrant is the most common type of warrant and is most frequently issued by a court of law as the result of a person failing to appear for a scheduled court hearing or failing to pay a court ordered fine. An arrest warrant is generally issued in criminal investigations when a person is suspected of committing a crime. Law enforcement must apply for an arrest warrant from a judge based upon evidence that establishes probable cause to believe a person committed a crime.
If a warrant has been issued for your arrest, you may be in immediate risk of being apprehended by law enforcement and lodged into jail. Regardless of where you are and what you are doing, law enforcement will have the legal authority to arrest you pursuant to the warrant. Rather than enduring the constant stress of being arrested on the warrant, it is highly recommended that you contact an attorney to assist you in turning yourself in on the warrant. An attorney can make arrangements with law enforcement and the prosecutor to surrender you on the warrant and, in the process, direct law enforcement that you will not be making any statement regarding any crimes you may be suspected of committing. Moreover, by agreeing to turn yourself in voluntarily, your attorney and the prosecutor can come to an prearranged agreement on the amount of bond you will need to pay to secure your release from jail. Generally speaking, the amount of bond you will need to post to gain your release from jail is substantially lower if you voluntarily turn yourself in on the warrant as opposed to being arrested on the warrant. Further, an attorney can attempt to make arrangements to get you set up for court on the same day you turn yourself in on the warrant. This may result you spending a much shorter amount of time in jail than if you were picked up by law enforcement on the weekend, or a legal holiday.
If you have an active warrant for your arrest, do not hesitate to contact Naylor and Rappl Law Office. Our knowledgeable and experienced criminal defense attorneys will make the necessary arrangements to get the warrant taken care of and, in the process, prevent you from facing an interrogation by law enforcement and attempt to come to a agreement on a reasonable bond to secure your release from jail.