Drug Possession
If you have been charged with being in possession of illegal drugs after being subjected to a law enforcement search such as: a search of your person; a search of your home or residence; or a vehicle search, including searches by drug dogs on Interstate 80 (I-80), contact us immediately because we may be able to challenge the legality of the search.
Unlawful narcotics include: marijuana, cocaine, crack, methamphetamine, heroin, LSD, and unauthorized prescription medications. Drug crimes are very serious matters that call for experienced drug attorneys. Common drug crimes include: drug possession, drug possession with the intent to sell, possession of drug paraphernalia, drug manufacturing, drug trafficking, and drug distribution. Drug possession is the most commonly committed drug crime. In Nebraska, a person can be guilty of drug possession if they are in possession of any detectable amount of an illegal drug, including residue on a pipe, baggie, or other paraphernalia.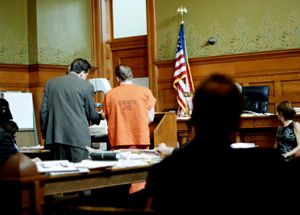 If convicted of a drug crime, a person may face felony charges (depending on the type of drug possessed), which may include a sentence of imprisonment, large fines, probation, parole, as well as the potential loss of certain rights, such as the right to vote and the right to possess firearms. Drug possession charges and legal penalties depend upon the type of drug possessed and the amount of drug possessed.
Common defenses to drug possession charges include: challenges to the legality of the initial law enforcement contact or traffic stop; challenges to law enforcement's continued detention of the suspect; challenges to the search or the suspect's person, vehicle, or residence-including challenges to search warrants; challenges to drug dog searches-including challenges to whether the drug detection dog was properly trained and whether the dog properly alerted law enforcement to the presence of drugs; challenges to invalid consent to search; and challenges to whether the suspect was in legal possession of the controlled substance; among other possible issues. Naylor & Rappl Law Office in Lincoln, NE has established a strong reputation for effectively defending drug cases. Our legal team will investigate every possible angle in an effort to ensure that law enforcement did not infringe upon your constitutional rights. For years, we have defended the rights of Nebraska citizens in nearly every county in the State, including:
Butler County
Cass County
Gage County
Hall County
Hamilton County
Jefferson County
Johnson County
Lancaster County
Nemaha County
Otoe County
Pawnee County
Richardson County
Saline County
Saunders County
Seward County
York County
In the event a drug conviction appears likely, many counties in Nebraska offer pretrial Diversion and/or Drug Court programs, which may result in the drug charges ultimately being dismissed. Alternatively, our legal experts may be able to get the drug charges reduced to substantially less serious charges and assist in receiving a more favorable sentence in the result of conviction.
Due to the life altering legal consequences of a drug conviction, any person suspected of drug possession should seek the assistance of a professional drug possession law firm with the legal background, knowledge, and experience it takes to successfully defend marijuana possession and other drug charges. Naylor & Rappl Law Office is a reputable criminal defense and drug possession law firm that has been helping clients contest State and Federal drug charges for over half of a century. If you have been charged with a drug offense, contact Naylor & Rappl Law Office for the guidance and advice you need to face the criminal justice system.