Drug Trafficking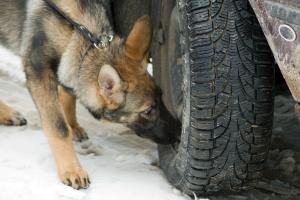 The State of Nebraska prosecutes a high volume of drug cases involving the transportation of large amounts of drugs in motor vehicles. Interstate 80 (I-80) runs directly through Nebraska and has become one of the major interstates used for trafficking drugs from the east and west coasts of the United States. The Nebraska State Patrol, and other law enforcement agencies, stop countless vehicles traveling on Interstate 80 with the intent of searching them in the hopes of finding illegal drugs located inside the vehicles. Law enforcement agencies utilize specific techniques and methods designed to stop and search vehicles traveling on Interstate 80, and other highways located within the state of Nebraska. These traffic stops and vehicle searches are commonly referred to as "interstate drug interdiction" cases.
Common defenses to interstate drug interdiction and vehicle drug search cases include: challenges to the legality of law enforcement's traffic stop of the vehicle; the continued detention of the suspect following completion of the purpose of the initial traffic stop; challenges to the validity of consent to search the vehicle; challenges to the warrantless search of the vehicle; and challenges to dog searches – including to whether the drug detection dog was properly trained and whether the dog properly alerted law enforcement to the presence of drugs – among other potential issues.
Naylor and Rappl Law Office in Lincoln, NE has established a strong reputation throughout the state of Nebraska for effectively defending the traffic stops and vehicle searches that occur during these interstate drug interdiction cases. The attorneys at Naylor and Rappl Law Office are very familiar with the methods and techniques frequently used by law enforcement during interstate drug interdiction cases. Naylor and Rappl Law Office has vast knowledge of your constitutional rights and the legal requirements which must be satisfied before law enforcement can legally justify pulling you over and searching your vehicle. Our legal team will investigate every possible angle in an effort to ensure that law enforcement did not infringe upon your constitutional rights when they pulled you over and searched your vehicle. For years, we've defended the rights of Nebraska citizens in almost every county, including:
Butler County
Cass County
Gage County
Hall County
Hamilton County
Jefferson County
Johnson County
Lancaster County
Nemaha County
Otoe County
Pawnee County
Richardson County
aline County
Saunders County
Seward County
York County
Due to the life-altering consequences of a drug conviction, any person suspected of trafficking or transporting drugs should seek the assistance of a law firm which has the legal background, knowledge, and experience it takes to successfully defend drug trafficking charges. If you are charged with a drug offense, do not hesitate to contact Naylor and Rappl Law Office so that our knowledgeable and experienced legal team can provide you with the guidance and advice you need to face the criminal justice system.